Softness and getting back to nature: the latest forms in modern design
Our first home was – and still is! – Nature. It's true to say that we've always known that, but recently we have been giving it some serious consideration. The reason is clear. Climate change is already affecting the lives of huge numbers of people and now, more than ever, we are all being called upon to do our bit. You may ask what that has to do with the interior design trends of 2023?
We can say that it is more a question of sensations, desires, and ways of experiencing the home and design. Because, after all, the way we furnish our homes reflects how we see the world. And how we would like it to be.
Home decor wrapped up in softness
The latest interior design trends focus on the most natural trait of man. Rounded forms have been back in style for a few years now in the most popular design solutions.
We have to look into our subconscious to seek one of the reasons for this renewed success. Soft and circular forms create states of mind in us that tap into the sphere of protection. We instinctively associate those forms with motherhood, eternity and, of course, nature.
There are no sharp corners in nature. Choosing rounded forms to furnish our homes makes rooms feel calm and peaceful. They arouse a sensation of elegant, joyful, positive movement.
This is why the new Ronda Design collection features plenty of new furniture with circular forms.
Colours trending in interior design
Along with circular forms, the Ronda Design Collection introduces brand new finishes, in both warm, earthy tones (from Canapa to Brick Red) and shades of green (like Sage and Pistachio).
But that's not all. The world of colours holds many other surprises:
Neutral colours like shades of white, taupe and grey are still in vogue. However, these colours are also combined with much more vivid shades, as mentioned previously, particularly earthy tones and shades of green.
New, bolder colours come into play, adding a novel splash of colour to the home. Featuring in smaller accent pieces like lamps and occasional tables, they draw attention to corners of the home that have not been adequately highlighted before.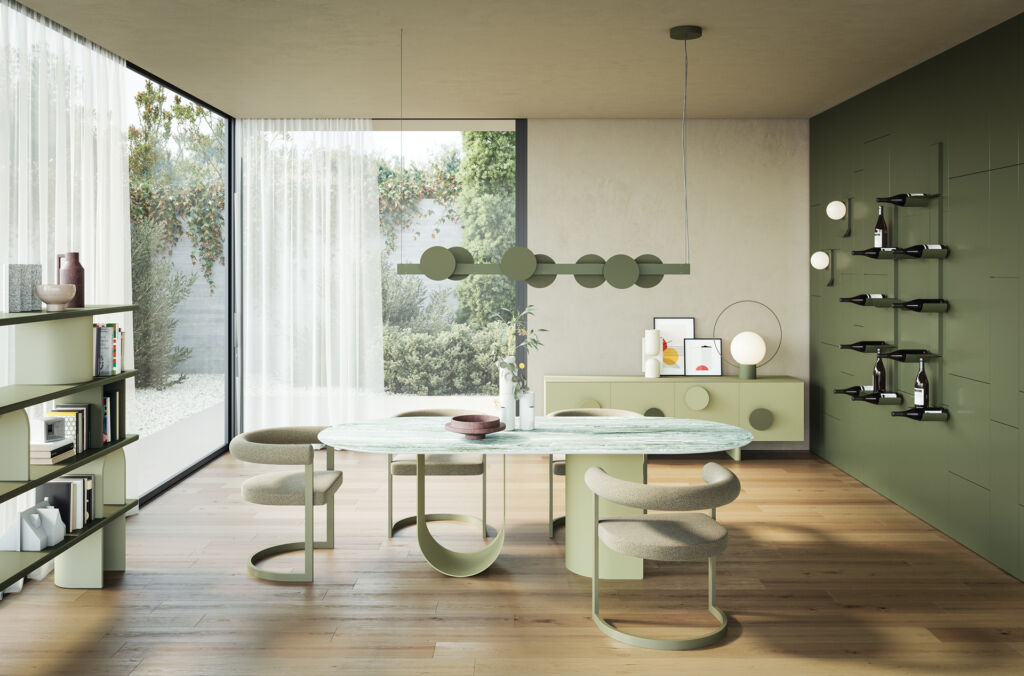 Furnishing with magnetic arrangements
With Magnetika, Ronda Design has completely revolutionized the way of furnishing your home. Change is essential for people with constantly evolving tastes, who feel the need to keep up with the latest trends. Magnetika fulfills this need with a system of magnetic metal elements that combine to create fully customized solutions in continuous motion. Magnetika's movable magnetic accessories offer a useful way of enhancing the space. By simply changing things around, you can really give your arrangement a different look, instead of throwing it away and replacing it.
The new shades introduced by Ronda Design further increase the ways of making the magnetic wall more unique and interesting.
For example, the ever popular Caddy magnetic wall lets you alternate blocks of colour for a surprisingly striking effect.
Or you could add coloured magnetic accessories to neutral or dark panels to create compositions that give the entire room a bold, contemporary look.
Want other ideas and a preview of the 2023 interior design trends?
Write to us. We will be happy to share the most interesting news with you.