Ronda Design's stylish ideas and tips
Choosing how to furnish the bedroom is a very important task.
This room is, in fact, a special place: the ultimate in terms of intimacy, a space where people feel free to really be themselves.
No filters, no faking. In your bedroom, your personality must find the space to unrestrainedly express itself, no matter whether you are single or have a partner.
It's no coincidence if walking into a person's bedroom is like taking a glimpse of a secret diary. That's why choosing how to furnish your bedroom is so important: it says a lot about you.
Moreover, it's a room dedicated to resting – not just physically but also mentally. That's why the furniture must be chosen carefully, to favour relaxation.
This article will give you stylish ideas and tips on how to furnish the bedroom by pairing your need for intimacy and rest with your wish to follow the latest trends.
How to make your bedroom original
One of the most common questions asked is how to make a bedroom special, a unique space with its own, particular style.
Our answer to this question is Magnetika, the system patented by Ronda Design that combines metallic and magnetic elements to create moveable and customisable solutions.
In other words, magnetic accessories that can be moved as the fancy takes you are paired with a metal surface. The furnishing elements can thus be moved around to create different arrangements at no extra cost.
Magnetika offers targeted solutions for the bedroom too, starting from this room's key elements: the headboard and the walk-in wardrobe.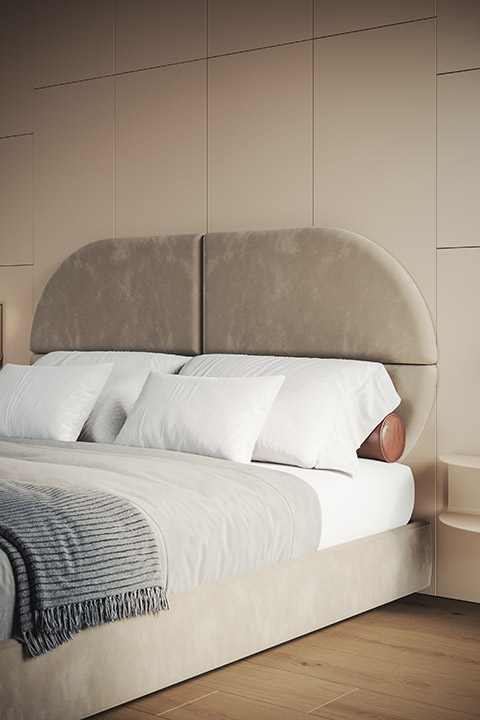 The headboard by Magnetika
The headboard of the Magnetika bed is composed of soft cushions that are fixed magnetically to the panels behind them. Its position can be customised to suit one's needs. If required, the magnetic cushions can be paired with a padded bed frame. The structure of the bed can also be completed by magnetic bedside tables, lamps and shelves to create a functional puzzle that adds beauty to the aesthetic of the bed.
Since the cushions it is made up of can be selected to suit one's needs, the Magnetika bed headboard is also an ideal choice for hotel rooms.
The latest Ronda bedroom accessories: Hook, Taco and Mira
But the collection to choose from to furnish the bedroom doesn't end here.
You can decorate the surface of your bed with our new, magnetic Hook cushions, or add beauty to your spaces by means of the magnetic Taco bedside table, both of which feature soft, rounded shapes in line with current trends.
If you really want to add a touch of class to your bedroom, Mira is a must have.
It consists of a metal console table with an irregular, ceramic top and a swivel drawer. Both the metal base and the ceramic top are available in various colours.
It really is versatile: it can be used as a console table in the entrance hall or as an elegant dressing table, paired with an optional mirror. And, in the blink of an eye, by adding a shelf it even becomes a handy desk.
The innovative Caddy walk-in wardrobe
Whenever you wish, the magnetic Caddy Wardrobe walk-in wardrobe lets you create new areas to achieve the wardrobe of your dreams.
Thanks to metal panels and other storage elements that can be easily attached to the slotted rail, it is possible to organise the most functional elements of a wardrobe, i.e. drawer units, shelves, shoe-racks and hanging rails.
By choosing from materials such as metal, ceramic, wood, mirrors and others, the Candy walk-in wardrobe lets you create a customisable, top designer space to store your clothes in.
Would you like to receive other ideas and tips on how to furnish your bedroom?
Contact us, we can't wait to share our latest news with you!