Light has a timeless appeal because it instantly creates the right mood in any room. That's why particular attention must be paid to lighting when preparing an interior decoration project.
In fact, details are important – even fundamental – in interior design!Light adds character to a room, bringing out and making the most of its strengths.
This article focuses on lamps, suggesting modern designs that just can't be overlooked.
We will concentrate on rechargeable lamps which, as well as featuring innovative design, are also incredibly convenient and practical!
Furnishing with light
No matter whether they are magnetic or not, rechargeable lamps offer a great advantage: they can be moved around wherever needed. A house may, in fact, require lighting in strategic places, or it may need to illuminate poorly-lit spots that deserve to be seen. All Ronda Design's rechargeable lamps, be they magnetic or not, can be easily charged numerous times: simply use the battery charger provided!
Rechargeable magnetic lamps
The innovative Magnetika furnishing system is a completely new furnishing method that lets accessories be moved around easily a countless number of times thanks to metal panels and magnetic elements. It goes without saying that all the elements are customisable and can be continuously changed.
This is a brand new system, patented by Ronda Design and composed of metal surfaces and of magnetic shelves and accessories.
The accessories include rechargeable lamps! What could be more convenient than that?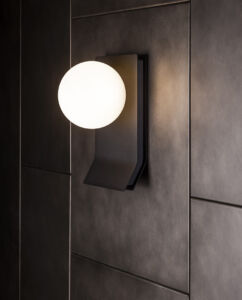 For example, the beautiful Brand lamp: a sphere made out of a LED light, set on a metal base with an elegant curved edge. It can be used to add a touch of light to the metal panels and, since it is cordless, it can be placed just about anywhere. It can even be used as a bedside table lamp; a stunning combination can be created with the metal Atik bedside table for instance!
On the other hand, Lapilla is a surprising dynamic lamp available in the rechargeable version as well as in the traditional version with a cord. This model is a playful and modern take on the traditional table lamp, with a semi-cylindrical base and a truncated cone-shaped lampshade. The base and the lampshade are independent but connected by a fabric cord which becomes a decorative element that can be bent and positioned at will.
Rechargeable non-magnetic lamps
Presenting Chia: a stunning, rechargeable, non-magnetic table lamp. Chia's slim metal framework is reminiscent of traditional lanterns reinterpreted in a modern key.
A few tips on how to use it: as a bedside table lamp or as a centrepiece – even in a modern restaurant – to create a really intimate atmosphere, turning each table into a small, individual island.
Another advantage is that the light doesn't wane as the battery runs out; its brightness stays constant until the light goes out altogether.
At the Salone del Mobile 2022, Ronda Design carried on exploring the world of lighting, presenting new rechargeable lamps with a captivating, contemporary design.
One of these was Saturn, a rechargeable table lamp featuring a luminous globe and a metal structure reminiscent of Saturn's rings. Round shapes replicate the stylistic features of Ronda Design's latest collection as well as lending an extremely clean-cut appeal to Saturn, which is perfect for traditional and modern settings alike.
On the other hand, Go Luce is a rechargeable lamp with a cylindrical, metal body diffusing direct or reflecting light. Recharging the battery is really easy; just separate the cylindrical body from the wires that suspend it.
Would you like more information on rechargeable lamps or on how to use light in interior décor projects to obtain truly astounding effects?
Write to us, we will be happy to share some original tips with you!