Anyone responsible for fitting out a store knows only too well that store spaces have special displaying needs.
Shop windows and display areas inside the shop must be frequently refreshed and this must be done in the quickest and simplest way possible.
That's why magnetic furnishings are particularly suitable to fit out stores and shop windows: their main strengths are their versatility and their installation ease.
Magnetika for stores is the ideal solution for anyone responsible for display areas. 
But first of all, what is Magnetika? It's a comprehensive system of metal supports and magnetic accessories that can be combined to achieve ever-changing, fully-customisable arrangements. This magnetic furnishing system was patented by Ronda Design.
In the specific case of modern store furnishings, Magnetika lets you quickly and easily change product layouts and the relative message conveyed. 
It's not easy to manage a store and it becomes even more difficult if you have to deal with fitting out the store and the shop window, especially since they have to be continuously refreshed.  To be eye-catching and attract the attention of customers, arrangements must be often renewed.
Thanks to Magnetika for stores you won't need to call an expert to create a new set up because you can move the items around an endless number of times with no limitation whatsoever. You can quickly change the layout of your shop windows and of your display areas without any need for specialised personnel.
This line dedicated to store furnishings includes freestanding displays and specific accessories that turn Ronda Design into a business development partner.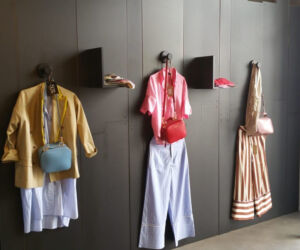 . 
Some examples?
Special panels with integrated lighting (such as Caddy Light, Caddy Post, Caddy Tilt…) give you the possibility of creating extremely spectacular wall displays that draw attention to products thanks to their integrated led light modules.
Caddy Logo lets you create rear-lit panels bearing your own, customised logo.
A large variety of shelves and accessories in various finishes – which are perfect for displaying different-sized objects – are also available.
There is even a specific line for wine shops: Magnetika Wine Bar, with specific magnetic accessories such as bottle and glass racks.
Would you like some more innovative ideas on how to make your shop unique and trend setting?
Write to us! We will be more than happy to share original tips with you so that you can shine for your unique style!