A functional furnishing element you may never have considered before
Have you ever considered using a false ceiling to better highlight your spaces? Read this article to find out how this can be done!
What's the purpose of a false ceiling?
False ceilings can meet aesthetic or practical requirements, for instance they can conceal systems or uneven ceilings, or make a room look more inviting by playing with different volumes. Indeed, false ceilings can be used to hide things you consider unsightly, to insert lighting and – in the event of more technical products – to insulate from the noise and from the cold or heat In addition to these functions, one aspect that is often overlooked is their furnishing potential: false ceilings are, in fact, authentic architectural elements capable of defining spaces.
Have you ever heard of magnetic false ceilings?
In homes, false ceilings are usually made of plasterboard while removable panels are preferred in workplaces or shops so that any systems concealed behind them can be accessed quickly and easily.
We would now like to share some exciting news with you: false ceiling can even be magnetic! How does that work?
Lookup, the new magnetic false ceiling
The Lookup magnetic false ceiling is an innovative, magnetic, false ceiling system consisting of a frame to which painted aluminium panels provided with magnets can be attached. Its special modularity makes it possible to create seamless arrangements together with our Caddy modular panels.
Caddy is a system of modular, metal panels that can be combined with moveable, magnetic shelves. The irregular arrangement of the panels – that is distinctive of the various Caddy panel configurations – can be customised to decorate the walls with unique and intriguing geometries. The wall can become a seamlessly whole with the Lookup magnetic false ceiling, creating a unique and well-defined look.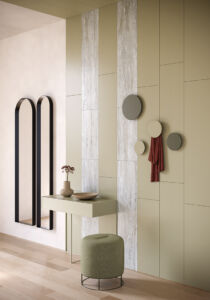 It's also possible to add lighting using conduits and adjustable spotlights, or spotlights recessed into the panels. Thanks to its specific features, the Lookup false ceiling – combined with Caddy panels, but not only – is a very versatile tool to plan a variety of spaces with: for instance, in the entrance, in the kitchen to set off the space dedicated to a work island, or in a corridor.
Magnetika, a continuously-evolving furnishing system
Magnetika is a patented magnetic system composed of a metal surface – the actual wall panelling – and of an extensive variety of shelves and of magnetic accessories. These parts can be quickly and easily mixed and matched together over and over again.
Lookup is part of this new furnishing concept. Its installation ease makes this magnetic false ceiling suitable for domestic and professional environments alike: as a matter of fact, it can be used in spaces such as offices and shops because it is very easy to conceal systems between the panels and the ceiling. It is also simple to access these systems for maintenance purposes.
<Would you like to receive more ideas and tips on how to define your spaces using our false ceiling?
Write to us, we can't wait to share our latest news with you!