Furnishing hints to create the perfect office in your home!
We all know that the last two years have brought great changes to everyone's life. We are talking about transformations that have gone as far as influencing our daily habits and routines, including the way we work.
We have all ended up spending more time at home, rediscovering how pivotal and essential it is for us. Home sweet home: this saying has never been as significant as it has proven to be in these months during which we have spent much more time than usual at home because of the pandemic. We have learnt, once more, to appreciate the reassuring comfort of our home, of familiar spaces and of the rooms we love the most.
Perhaps we've even felt the urge to reorganise our interiors, renewing the style of our furniture, adding new pieces as well as a few touches of modern design here and there.
Home office ideas
The workplace is one of the spaces inevitably involved in these transformations. Working from home has become an increasingly more frequent trend that is bound to become more and more widespread in the future since it doesn't just meet the requirements of the current situation but, above and beyond, it satisfies the need to establish a new balance between private and professional life.
Nevertheless, working from home inevitably calls for new space organisation. In fact, we all know that a space you can concentrate in without getting distracted is indispensable to work productively.  It's essential to have a place entirely dedicated to work that is not contaminated by your private life otherwise you run the serious risk of not being able to draw the line between your job and your spare time. If you don't want to "live at work" it's important to create an office at home. You don't need a lot of room, it's sufficient to reorganise a space or a corner – even just a small one – exploiting every inch available and taking advantage of the beauty modern design has to offer.
Of course, we all know that it's a challenge and it takes a bit of effort to furnish with style but the results can be stunning if you have the right tools! For instance, to create a really unique setting you can count on our Magnetika. What is it? We'll now explain without further ado.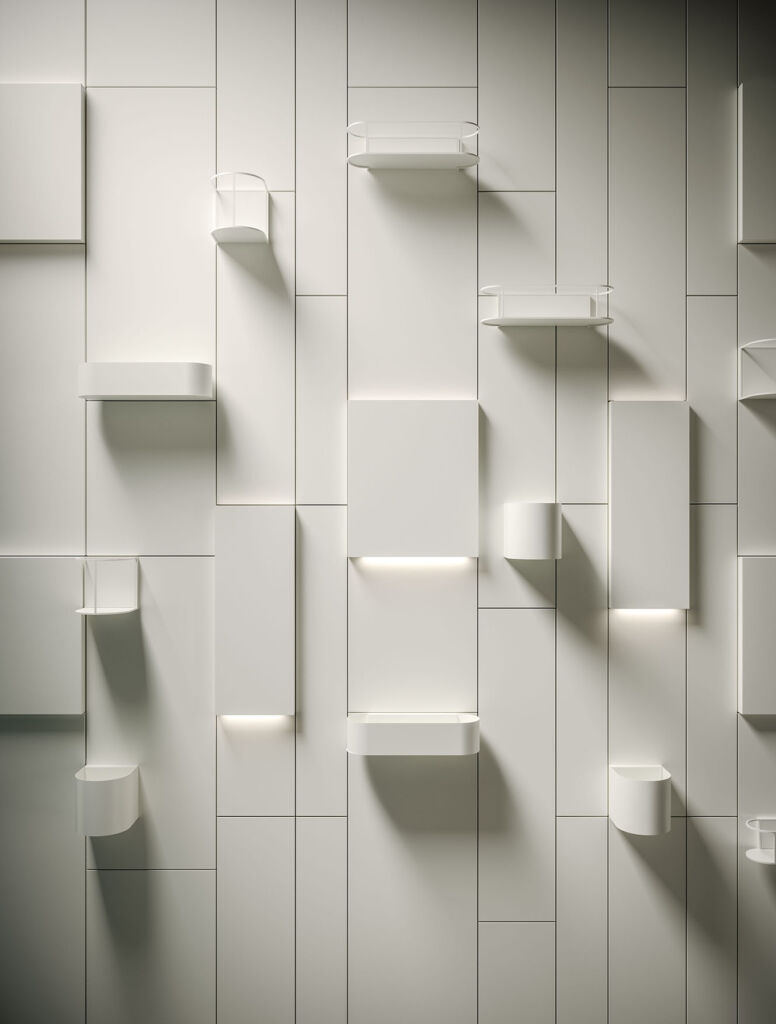 Magnetika, the flexible furnishing system
To create and furnish your home office with a modern design you can count on our Magnetika furnishing system.
Magnetika lets you create furnishing systems that can be customised in every detail. How? It's simple: it's a well-thought-out system of metal and magnetic elements that can be combined to achieve ever-changing, customisable arrangements.
In other words, you can move various parts to different positions a limitless amount of times to suit the whim of the moment or your own specific requirements.
How to furnish a home office
To furnish your home office, add everything you need, such as the Jacques desk for instance, to the metal panel. We are talking about elements that make up a complete system capable of creating an office that can be fully tailored to suit your needs.
The right lighting is also very important to give your all at work. You can integrate lighting into your modular panels by adding our Caddy light panels (Caddy Light, Caddy Post) or our magnetic lamps (Brand and Lapilla, for instance, are both available in the rechargeable, cordless version).
What else? Choose a chair that is very comfortable but also helps you concentrate and you're all set to go! Easy, don't you think?
Would you like other innovative ideas on how to furnish your home office?
Write to us. We will be delighted to share original ideas with you to create the home office of your dreams!