There's nothing better than getting home at the end of a long, hard day and being free to relax and unwind in your bedroom. Whether you read a book, watch an episode of your favourite TV programme or simply enjoy some peace and quiet, the important thing is that all your worries stay outside your bedroom door. Your bedroom is a safe haven, a place where you feel free to be yourself one hundred percent, no judgement.
To create a setting that's really cosy and relaxing, in addition to the furniture, another fundamental component to take into consideration is the lighting. Not just to enhance the value of the setting as a whole, but also to take care of your physical and mental well-being.
Bedroom lighting
Bedroom lighting differs from the lighting in the other rooms of your home, because we need to unwind and sleep there.
In actual fact, over the years, the purpose of this room has changed slightly: whereas once upon a time, it was used solely for sleeping in, these days it is also used to watch TV, to relax in a broader sense, but also – sometimes – to work behind a desk. That's why it needs general soft lighting and specific lighting for each individual activity.
In short, it is really important to choose the right bedroom lamps carefully so you can fully enjoy the most important room in your home.
No ideas? No problem, that's what we're here for! In this article, you'll find a host of practical ideas on how to organise your bedroom lighting with lamps that help create the right lighting. The desired result is a warm and welcoming light, which however has adjustable intensity so that it can adapt to various circumstances.
Revolutionise the way you enjoy your bedroom with Magnetika
An unexpected solution? Magnetika!
Magnetika is an organised system of magnetic metal elements, which are combined to create customisable, ever-changing solutions. You can move your favourite components where you want, when you want, and above all without restrictions. This magnetic system is patented by Ronda Design and basically consists of a metal surface – the wall panelling – and a broad variety of magnetic accessories and shelves.
With Magnetika, you can create your own wall by customising every single detail, and inserting the bedroom lights you like the most – knowing that you can move the components around at any time.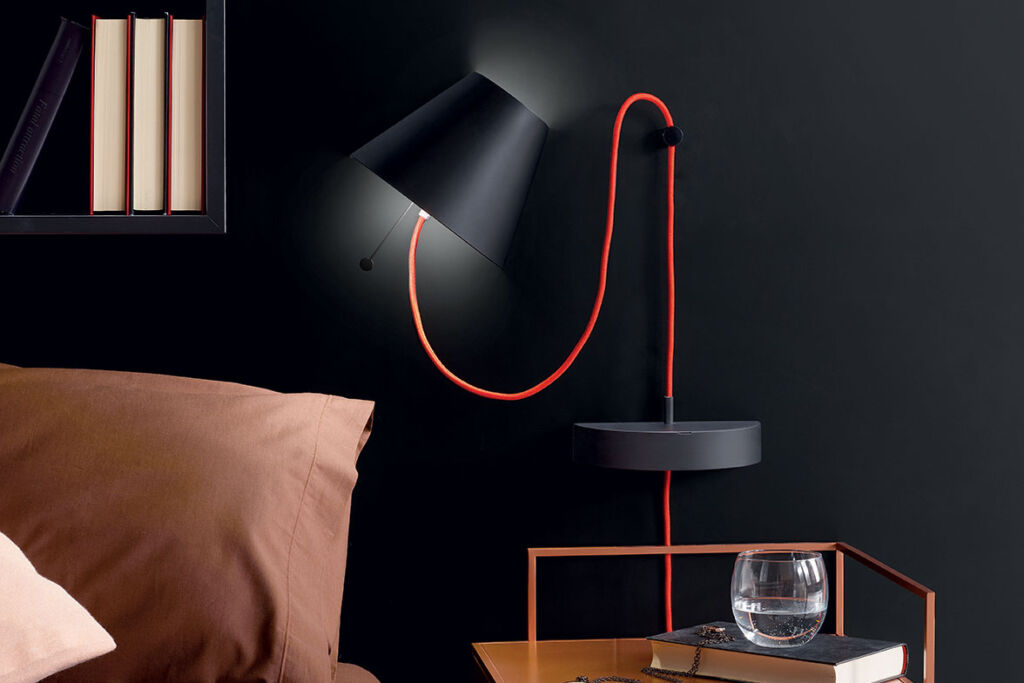 Our bedroom offering
Our bedroom offering will surprise you. Whether it's for adults or for children, the bedroom is the refuge for your most cherished belongings. The Magnetika system allows you to position without restrictions whatsoever your favourite picture frames, books, toys and significant mementos. All under the banner of practicality, without forgoing the pleasure of furnishing tastefully. All you'll need is a simple gesture to make room for new objects or to change the layout of your furniture.
Bedroom lamps
…and what about the lamps for your bedroom? We're loving them here at Ronda Design.
One of our favourites is Lapilla, the unexpected lamp. Strictly magnetic, it completes the line of functional accessories for your wall. Place it wherever you want to, to give your bedroom an ever-new style. The Brassie lamps are also excellent allies to fit above your bedside cabinet.
Or better still, let yourselves be pampered by Brand, the rechargeable luminous globe applied to an elegant metal base with adjustable luminous intensity.
Do you feel like being inspired by new ideas?
We'll be happy to suggest the perfect solution for you… write to us!